Low Temperature Chillers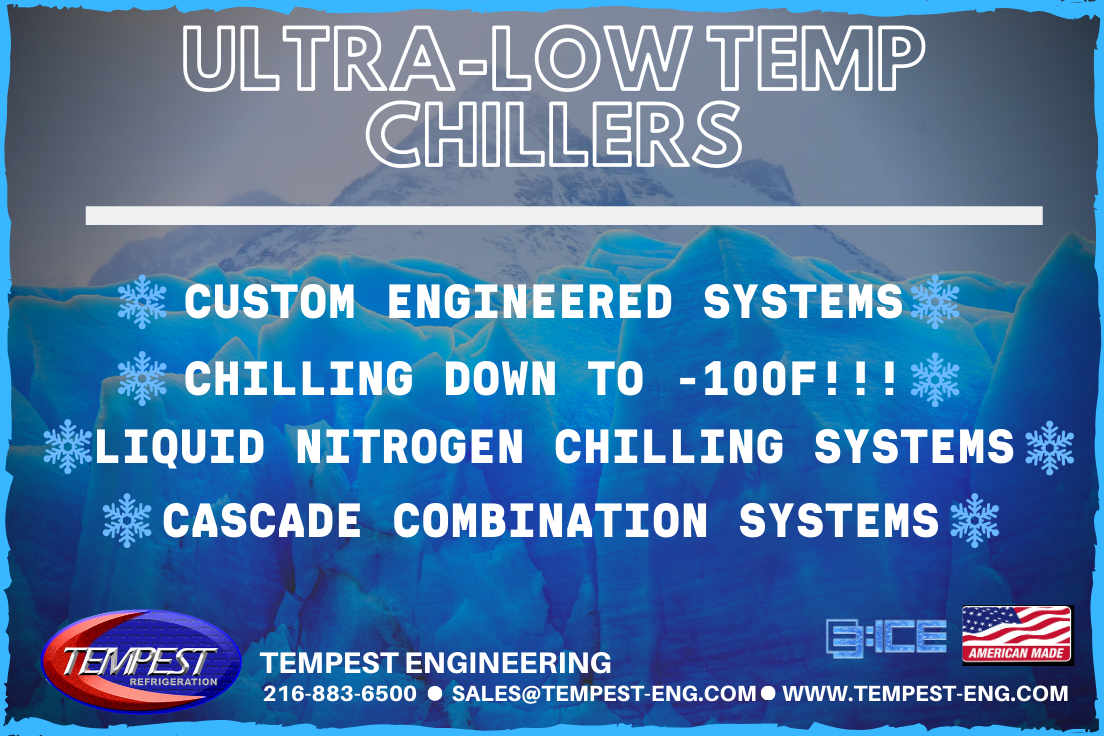 TEMPEST SPECIALIZES IN LOW AND ULTRA LOW TEMPERATURE CHILLING
Tempest has an in-house engineering team allowing for the design, engineering, and manufacturing of low and ultra low temperature chillers.
Tempest defines low temperature systems between +20F and -59F,  and ultra-low temperature systems between -60F and -100F.
Systems include single stage mechanical refrigeration to –40 deg. F, two stage systems to –60 deg. F, and cascade systems down to –80 deg. F.
We can also provide CO2/ ammonia cascade systems for temperatures down to –65 deg. F.
For lower temperature requirements we construct liquid nitrogen systems down to –160 deg. F. Capacities range from 5 tons on up.
NATURAL REFRIGERANT INDUSTRIAL CHILLERS:
AMMONIA CHILLERS
PROPANE CHILLERS
CO2 CHILLERS
OTHER PREFERRED REFRIGERANTS:
R-134A
R-507
R-1234ZE
R-1234YF
CUSTOM CHILLER CONFIGURATIONS:
AIR COOLED
WATER COOLED
EVAPORATIVE COOLED
DIRECT EXPANSION
FLOODED
THERMAL FLUID SELECTION
SPECIALTY CHILLER APPLICATIONS:
ICE RINK CHILLERS
CBD OIL EXTRACTION SYSTEMS
TEST CHAMBER CHILLERS (R&D)
EXPLOSION PROOF CHILLERS; CLASS 1 DIVISION 2
PROCESS FLUID PUMPING SYSTEMS
CONTAINERIZED CHILLER SYSTEMS