Chiller Pumping Systems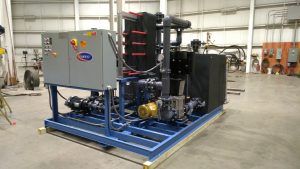 TEMPEST ENGINEERING OFFERS A COMPLETE LINE OF CHILLER PUMPING SYSTEMS
Systems range from a simple tank with a single pump to a 1200-gallon hot/cold tank with multiple pumps.
Hot/cold tanks are fitted with two pumps, one for the process and one to recirculate to the fluid cooler.
The standby pump option is piped to serve as a backup for the process or recirculating pump.
Capacities range from 25 to 200 nominal tons. Tempest also designs and manufactures specialized equipment for non-standard applications.
STANDARD FEATURES
Heavy duty welded steel frame
Stainless steel reservoir
Reservoir cover
Armaflex insulation
Site Glass
Fill valve
Drain valve
Lug mounted butterfly valves
Centrifugal close coupled pumps
Control panel mounted & wired
OPTIONAL FEATURES
Standby pumps
TEFC motors
Reservoirs

Mild steel epoxy coated
Polypropylene